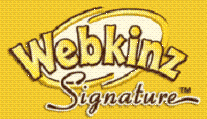 Webkinz Signature Pets are limited edition, collectors pets. Ganz has declared that they're presenting a new line of Signature Pets. The Signature Pets appear more life-like than regular Webkinz. Signature Pets are carefully crafted from the highest quality, ultra soft plushy. each design has a realistic details and delicate colorations
Webkinz Signature pets are loveable realistic plush pets that are bigger than regular Webkinz. Just like all Webkinz, your signature Webkinz will come with a secret code-with it, you go into Webkinz World where you tend to your virtual pet, answer trivia, earn a lot KinzCash, and play the finest kids games on the net!The limited signature pet adoption likewise includes a wish token, an eStore choice pet special item and a piece of furniture from a new Signature room theme that is not available ANYWHERE else!!
Our Signature pets are some of our most attention-getting plush pet available on the web
Collect them all!